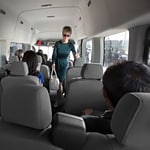 The Ford Transit Passenger Wagon is the new favorite for the commercial transport of travelers and guests. Spacious, dashing, efficient and responsive, this passenger wagon goes from daytime city tour to weeknight party bus without missing a beat. The Ford Transit also boasts impressive tech features that are cutting edge yet user friendly. Our Victory Ford team has the quick rundown on two such features.
Pre-Collision Assist
Part of the Ford Co-Pilot 360 suite of drive assist tech, Pre-Collision Assist helps you prevent accidents. A series of sensors scans the road for obstacles ahead. If detected, Pre-Collision Assist delivers visual and audible alerts. If driver reflexes prove slower than road conditions, the Ford Transit engages Automatic Emergency Braking to avert or minimize impact.
Forward/Reverse Sensing
Similar to Pre-Collision Assist, this feature uses scanners to detect objects in your trajectory when the Ford Transit is moving slowly in Drive or in Reverse. The sensing system uses beeps and solid tones denoting your nearness to objects in the road ahead of you or behind you.