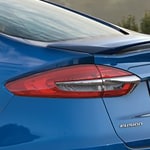 The 2020 Ford Fusion is finally here at Victory Ford, and it remains one of our most popular mid-size models. Its SE appearance package this year bolsters your wheels up to 18-inch ebony black painted aluminum wheels that really bring out the shine of the chrome and bezel. Let's just say that the new Fusion shines a little brighter this year in Kansas City.
And while we're all for the new design features that really shine out in appearance, we appreciate utility, too. The 16 cubic feet of trunk space on this year's Fusion promises to give you a place to store your goods and gear during every exciting trip in the new cranked up style of the Fusion. It's the Fusion like you've never seen it, or used it, before.
We invite you to visit us here in Kansas City and drive the Fusion for yourself. One test drive, and you're sure to take this one home.